Somaiya Vidyavihar University signs MoU in collaboration with the Shimadzu Corporation
Somaiya Vidyavihar University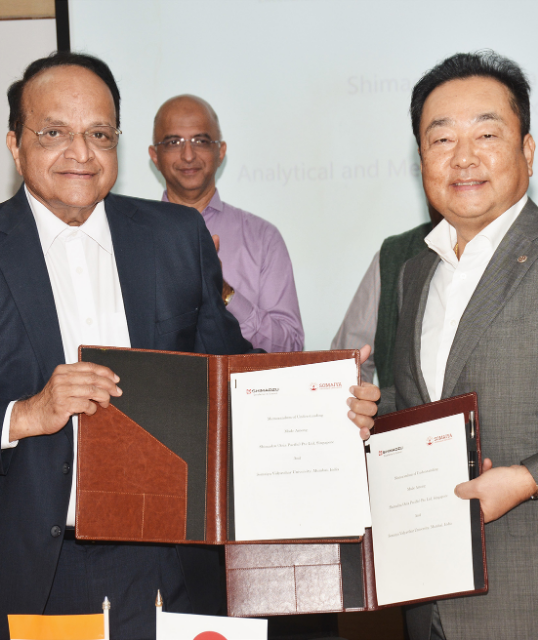 On the occasion of starting the 'Shimadzu - Somaiya Vidyavihar Centre of Excellence in Analytical and Measurement Sciences'
Mumbai, On the 25th of November, the Chairman of the Board of Shimadzu Corporation, Japan - Dr. Teruhisa Ueda visited Somaiya Vidyavihar University on the occasion of signing an MoU with Somaiya University.
The objective of the MoU signing was to establish and maintain an Advanced Analytical Instrumentation Facility (AAIF) named as, Shimadzu - Somaiya Vidyavihar Centre of Excellence in Analytical and Measurement Sciences'.
The new centre is set bring about academic enrichment and development of students and the industry. As the Shimadzu Corporation and Somaiya Vidyavihar University (SVU) jointly work, they will be focusing on applied research and new method development in the areas of sustainable materials, green energy and bio-fuels. Another aim is to publish the research data on national forums and utilize the research publication for the mutual benefit of the industry and both the parties.
The centre will enable SVU to do advanced research and analysis using state-of-the-art analytical and measuring instruments to make meaningful contributions with science in the world.
Optimistic about the MoU signing, Samir Somaiya, President, Somaiya Vidyavihar University, says, "True innovation occurs when there is working together of people, companies, nations and disciplines in the true spirit of discovery and teamwork. Shimadzu Corporation is a world leader in Analytical and Measuring Instruments, Medical Devices and more. I am grateful to Shimadzu and their leadership team for visiting us and choosing Somaiya Vidyavihar University as their partner. Many thanks to Nakul Toshniwal, Shri Tetsuya Tanigaki, Shri Prem Anand, Shri Yoshiyuki Fujino, Dr. Swaminathan Sivaram, our Vice Chancellor Rajasekharan Pillai V N and all others who helped make this happen."
Speaking about the foundation that SVU rests on and the future of the university with Japan, V. N. Rajasekharan Pillai, Vice Chancellor, Somaiya Vidyavihar University, says, "SVU and Shimadzu Corporation are set to collaborate on a sustainable learning space that supports the implementation of an advanced instrumentation facility in the field of analytical chemistry, in the fields of SVU. Our university was founded on the belief that education is an important pillar of nation building and meaningful change, and it is the beautiful responsibility of the privileged to provide education to those who want to learn.
SVU has been in constant contact with Japan; in the areas of Japanese language education and cultural activities. This MoU signing will pave the way for future collaborations with the university and Japan. I want to personally thank Mr. Nakul Toshniwal to facilitate this collaboration between SVU and the Shimadzu Corporation."
Nakul Toshniwal, Managing Director, Toshvin Analytical Pvt. Ltd., says, "This is my first time in India, and SVU has given me such a warm welcome. The combination of the years of experience in education of Somaiya University and its team of talented researchers, and the leading expertise in instrumentation solutions of the Shimadzu corporation will surely lead in an excellent synergy, that will help contribute to the society through the means of science and technology. With this collaboration between the two entities, I am confident that we will be able to make a significant contribution towards the industry as a whole."