Today completed 15 years of Jain Centre
K J Somaiya Centre for Studies In Jainism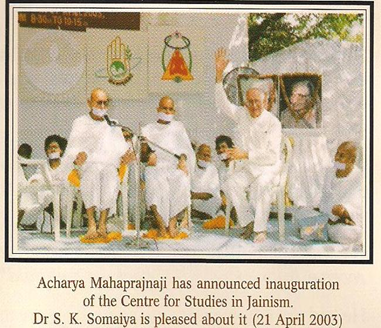 Today is very important day for Jainism Centre. Fifteen years ago, Dr. S.K. Somaiya has established "K.J. Somaiya Centre for Studies in Jainism" motivated by Acharya Shri mahapragya Ji on 21st April 2003, Today, completed 15 years of good academic activities and research work of the Centre. Now-
1) Centre has more than 100 students of Jainism
2) Published many books and completed good research in the area of Jain Philosophy.
3) Conducted 3 National Seminars, 3 Students Seminar and 9 workshops at the Centre.
4) Delivered 28 guest lectures by scholars and dignitaries on Jainism.
5) Centre awarded life time achievement award from Akhil Bhartiya Darshan Parishad in April 2016.