MOU signed with New Jersey City University (US) and Jagiellonian University (Poland)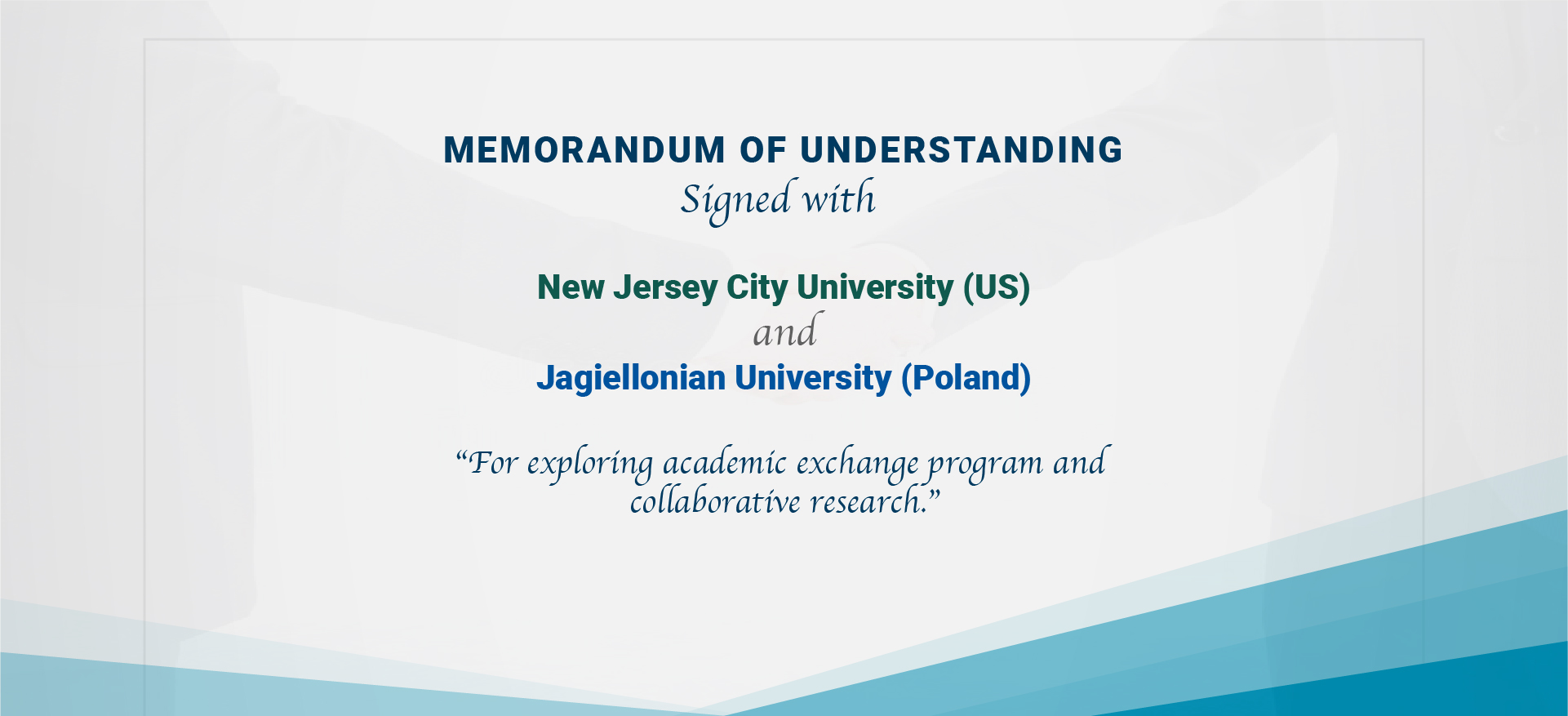 Greetings from SVV International Relations Office !
Pleased to update that K.J. Somaiya Institute of Management Studies and Research, Somaiya Vidyavihar has signed a MOU with New Jersey City University (US) to explore academic exchange program and collaborative research.
About New Jersey City University (US):
New Jersey City University (NJCU) is a public university in Jersey City, New Jersey, United States. NJCU was founded in 1927 in order to train teachers. This public institution's urban campus is located on 57 acres in Jersey City, New Jersey. It was listed as one of the best regional universities in the North in the U.S. NJCU is a vibrant place to live and learn, with students and faculty from around the world; welcoming, comfortable residence halls; a robust Greek system; a wide variety of student organizations and athletics programs that create a vibrant campus outside of academics; and support services for veterans, international students and others with unique needs. Beyond campus, students from NJCU have opportunities to explore the world and gain invaluable, hands-on experience through study abroad and internships in the most in-demand fields.

There are more than 25 degree programs available through different colleges offered at both the undergraduate and graduate levels. The schools that make up Jersey City University include: the College of Arts and Sciences, the College of Education, and the College of Professional Studies. Out of all of the academic programs offered the most popular majors of students graduating in 2009 include: Business administration and management; Psychology; Corrections and criminal justice; Organizational behavior studies; and English language and literature. The Fine Arts program was ranked as one of the best grad schools in the U.S. News 2011 edition of Best Colleges.
We will be able to send 1 or 2 students to NJCU for semester exchange program in 2019.
Further, K.J. Somaiya Center for Buddhist Studies has signed a MOU with The Jagiellonian University (Poland) for exchange program and joint research.
About The Jagiellonian University (Poland):
Founded in 1364 by Casimir III the Great, the Jagiellonian University is the oldest university in Poland, the second oldest university in Central Europe, and one of the oldest surviving universities in the world. The campus of the Jagiellonian University is centrally located within the city of Kraków. The university consists of fifteen faculties, including the humanities, law, the natural and social sciences, and medicine. The university employs roughly 4,000 academics, and has more than 40,000 students who study in some 80 disciplines. More than half of the student body are women. The language of instruction is usually Polish, although several degrees are offered in either German or English. The university library is one of Poland's largest, and houses several medieval manuscripts, including Copernicus' De Revolutionibus.
Thank you all for showing interest in Exchange Program with foreign universities, if you have not submitted google forms previously please fill HERE.
Please navigate to International Tie-ups to know more about partner universities of Somaiya Vidyavihar.
Soon, we will update you about students exchange and international immersion program applicable for year 2019.